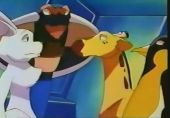 It's been just over a month and TFCog is proud to release yet another episode! This time it's the first Beast Wars Neo episode in five years. We're planning on releasing a lot more in 2012 (minimum four episodes over the course of the year, not including Victory 26), so keep checking the site for more!
This is a… wacky episode to say the least – something we've definitely missed during Neo's hiatus. Longrack and Break go to pick up a capsule, but one wrong step turns Longrack into a little kid! Now, the Maximals must go back to the planet in order to turn Longrack back, but the capsule isn't done yet…
Download Beast Wars Neo 11 – "Planet of Time"
Discuss the episode on the TFCog Forums or if you prefer, post your comments below.