Scramble City Fandubs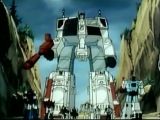 Scramble City was a short video produced in Japan in order to connect the dots between Season 2 and Season 3 of G1.
TFCog has been involved with several projects related to Scramble City. First, Peter Tagtstrom produced a fan dub of Scramble City in 2004. In 2008, Brandon Williams and Gabriel Jean gave it another go to update it and also add several scenes. It was the first time in which a TFCog project had ever contained material beyond the original episode. Finally, in 2009, TFCog teamed up with Denis Pier to dub his Scramble City 2 animated short from French into English.
We don't anticipate that we will be making any further additions to the Scramble City section of our portfolio anytime in the future, but you never know what the future holds…

Project Status: Completed
Years of Production: 2004, 2008, 2009
Total Episodes: 3
Released Episodes: 3