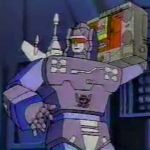 Our friend Jimbo has completed restoring both season 2 and 3 soundtracks from G1! We know we've had a lot of tracks up for years, but we're confident that this is the best they've ever sounded!
DOWNLOADS
Season 1 (662 MB)
Season 2 (368 MB)
Season 3 (207 MB) (UPDATED!)
ALBUM COVERS
Season 1 & 2 Album Cover
Season 3 Album Cover
The album covers were created by Lars Karlsen.
Update (12/05/17): "Cosmic Search I" has been updated to include a few more bass notes.