The part has now been filled. More auditions are coming soon. Thanks!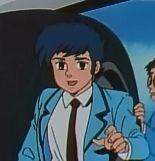 Due to the original episode 3 actor pulling out, we're looking for someone to take over the small part for Victory episode 27. The character is a 10 year-old boy who is a classmate of Jan's. Please read the following line and e-mail it to brandon@thetfcog.com.
"Sweet paint job, Jan, but you can't actually drive this thing, can you?"
There's about six lines in all. Even if you don't get the part, we will also have a few kid extra spots available. We'll let you know when the part has been filled.